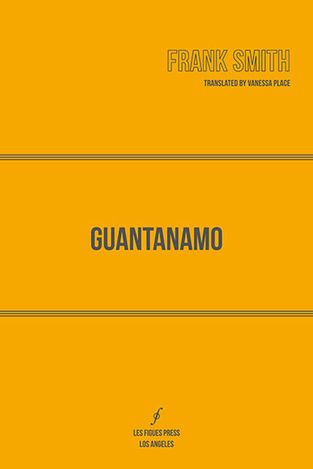 "IS THIS
WHO WE ARE ?"
  -- Barack Obama
Frank Smith
LES FIGUES PRESS
Los Angeles
July 2014
Translation by Vanessa Place
Introduction by Mark Sanders
Praise by Avital Ronell

Prose $17.00
ISBN 13: 978-1-934254-53-0
Binding: Softcover, Perfect
In Guantanamo, Frank Smith appropriates the language of interrogation minutes from Guantanamo Bay, shaping the questions and answers into a literary world that is as faceless and compelling as the interrogations themselves. Now translated into English by Vanessa Place, Smith's work is beautiful and unsettling, transcending and confounding the categories of law and poetry, of innocence and guilt, of translation and interpretation. 
Praise for Guantanamo:
« A mutant offspring of Kafka, Lyotard, and William Carlos Williams, Frank Smith's volume haunts the precincts of a world-class ethical blight. Poignant, disturbing, and skillfully translated by a leading voice in contemporary thought, Guantanamo remains the name of pernicious irresolution and offshore strike back. Our own rogue penal colony, Guantanamo becomes the site for provoking a cannonade of interrogatory language and testimonial breakdown. Facing the Military Tribunal's relentless pursuit of unnerving detail, Detainee, in a sudden if unbearable ironic swerve, asks as a final plea to be deported to the United States—home ground of his dream world. As if all this torture had been merely an initiation, a hazing ritual souped up by the protocols of some border patrol bureaucracy. . . »
—Avital Ronell
« A composition with a strange status, which lays a finger on the heart of the links between humanity, justice and language. »
—Blandine Sorbe
REVIEWS 
Best translated book award 2015